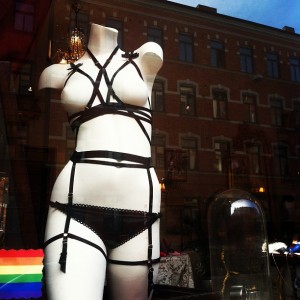 My designs in the window of Justine & Juliette
Oh my goodness, I've been so overwhelmed by the amount of support from everyone recently!  It's been quite a humbling experience the amount of lovely comments and gestures that I've seen from all of my friends, family and fans and it really helps to cement in my head that starting this brand was a good idea (that and the fact that I've seen my pants in a shop window, which was quite frankly pretty damn awesome).  I've been promising it for a while on facebook: that once I hit 1000 'likes' I'd have a competition. So here we go with competition time!  There are going to be four prizes:
Either a £100 voucher to my online shop OR a mystery bespoke piece of lingerie – one-of-a-kind and made to your size!
Either a Zuzanna frame bra or Kordelia harness
A set of embellished leather pasties or a lace eyemask
A 25% off discount code for my online shop with no expiry date
There's a few ways to enter this competition and ways to get more than one entry – everything is listed below!
Leave a comment on this blog post (make sure you include your email!) – 1 vote
Tweet about me (@karolinazl) and link this giveaway on twitter – 1 vote
Repost my giveaway post on Tumblr (http://karolinalaskowska.tumblr.com)– 1 vote
Share my page on Facebook (http://facebook.com/karolinalaskowskadesign) – making sure that you tag Karolina Laskowska and make the post 'public' so that I can see it!  - 2 votes
Write a blog about Karolina Laskowska lingerie and link to this giveaway (make sure you let me know about it!) – 5 votes
Write a blog post about how you would style your favourite piece of Karolina Laskowska lingerie (again, please make sure you let me know about it!) – 5 votes
Illustrate your favourite Karolina Laskowska design (please email your entries to info@karolinalaskowska.co.uk) – 10 votes (there will be a special extra prize for the best illustration as voted for on facebook)
I have a feeling this might all be a little excessive but I really am so happy to have reached this landmark and truly want to celebrate it!  I hope you all enjoy entering this competition and the very best of luck to you all <3  The competition will close Sunday 30th September so get your entries in!
Karolina xx